Alongside our collections of contemporary gemstone jewellery, we have accumulated a hoard of antique jewellery and beautiful objects. These pieces are the bounty found on our travels and from our many years of trading at Portobello Road Market. This collection ranges from intricately engraved torques from Laos, to carnelian set Turkmen cuffs and to fine gold tribal jewellery from India.
We hope you enjoy viewing these pieces as much as we have enjoyed finding them.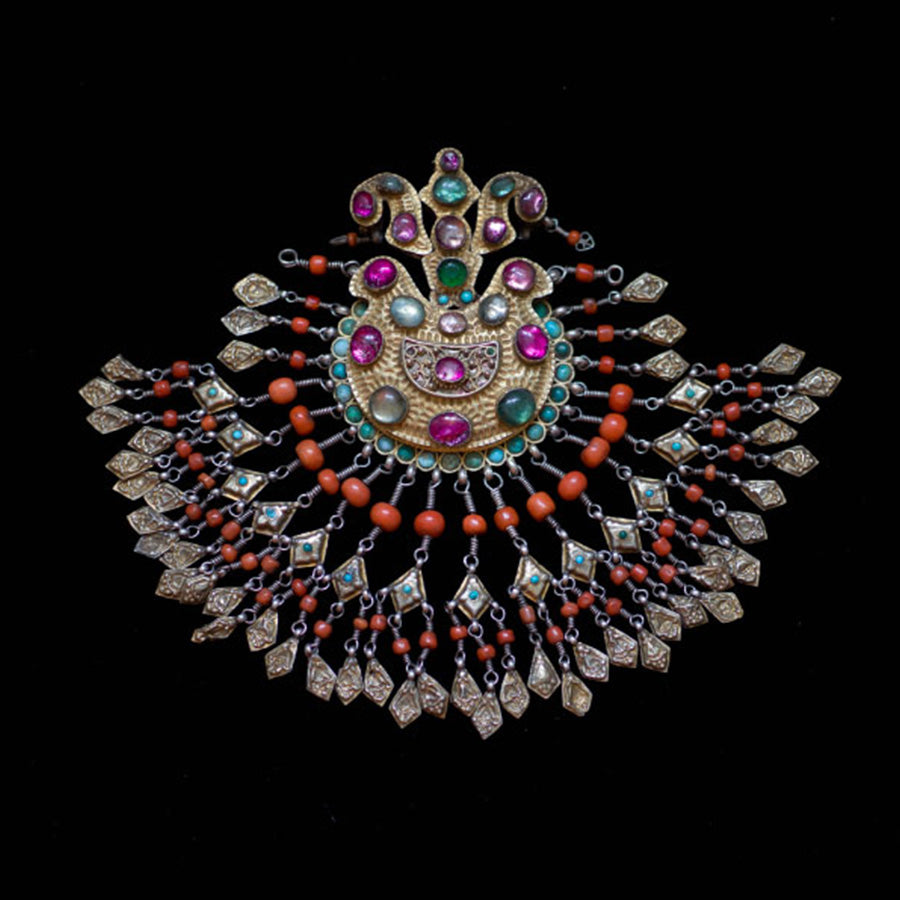 Our Product of the Month
This Bukhara pendant was a Portobello Road find. The pendant may have been part of a larger jewellery piece but it is a fabulous thing in its own right. Beaded with coral and turquoise it also encorporates pink and green glass, emulating rubies and emeralds. Located in present-day Uzbekistan, the Emirate of Bukhara (1785–1920) was famed as a artistic oasis on the Silk Road.
Traditional Indian Jewellery
One of a kind finds in high karat gold and set with precious gemstones.
Tibetan Turquoise
Turquoise is mined in the Himalayas and the Tibetans call it the "Sky Stone," believing that it came from the heavens and they revered it for its spiritual value.
Below are a pair of ceremonial earrings & a Gau pendant. Gau pendants are amulet boxes made of precious metals, turquoise, coral, or other jewels. Traditionally, Tibetans wear them around their neck, and inside the wearer places amulets that can help heal or prevent disease and serve as a protection talisman.
Naga Adornment
Ornaments from the Naga tribes of Northeastern India.
Below a cast brass torque worn to commemorate three trophy heads taken in a battle by a Naga warrior.
Trade Beads
Trade beads are beads that were used as currency and for bartering purposes.
Used by explorers and then traders, mainly in the African continent, the beads were made throughout Europe with the Venetians dominating production.
Want To Know More?
If you're interested in any of our Wonderful Things, please contact us for more information.
Full product listings will be coming soon.